How Should I Care for My Lashes After Application?
Immediately following an appointment the following activities will result in a weaker bond and premature eyelash extension loss and therefore should be avoided during the first 48 hours following an eyelash extension application. This is the length of time the adhesive takes to fully cure.
Exposure to heat, steam, sauna or friction
Application of eye and eyelash cosmetics
Exercise that causes facial perspiration
Sleeping on side or stomach
Receiving chemical treatments, such as eyebrow tinting, eyelash tinting or perming, hair bleaching or dyeing.
Receiving irritating eye-area treatments, such as chemical peels, skin-resurfacing procedures, eyebrow or any form of facial waxing or laser treatments.
Getting lashes wet you can wash your face; just use a face cloth to rinse around the eye area.
Rubbing eyes. If going to work out, wear a headband to keep the sweat off your face or from falling down into your lashes.
No use of oil based products around the eye area, especially your eye-make up remover and facial cleanser. ( Remember that excessive sweat and oils can break down the bond of the extensions ).
No use of eyelash curlers The most common cause of lash extensions falling out before the end of your natural lash cycle is pulling off the eyelash extensions as this will also pull out your natural eyelashes.
All eyelash extension glues contain cyanoacrylates. It is this substance that creates the ultimate eyelash extension bond. It takes 24-48 hours to cure fully during which time it releases slow fumes. These can be an eye irritant. As with any product on the market, there is a very small chance of an allergic reaction (approx. 1%). With a true allergic reaction, swelling of the eyes will occur within the first 48 hours. Please contact Lasholoscious immediately should this happen and we will remove the extensions free of charge for you ASAP. Once removed, the swelling will dissipate within a few days, and your eyes will be back to normal without any damage to either your eyes or lashes. Please follow the lash cleanliness steps to avoid an allergic reaction due to a build-up of make-up, chemicals from cleansers, oil and other cosmetics.
This type of bacterial infection is commonly known as Blepharitis. Lashes should be cleaned at least 3 times a week for non-wearing make-up clients and every night for clients who do wear make up The importance of Lash Cleanliness and maintenance: Use a micro fibre applicator or pointy tip cotton cosmetic applicator to get in between the lashes to clean away eyeliner and eye shadows using your oil free make up remover. Cleanse and wash your lashes with baby shampoo and warm water or make a Lash Shampoo see recipe below. Gently blow dry your lashes to dry thoroughly. Hold your blow dryer on your lap facing upwards and dry on the cool setting Gently brush through your lashes after drying and every morning to maintain a good appearance. Schedule your re-lash appointment within 2-3 weeks of your initial eyelash extension appointment.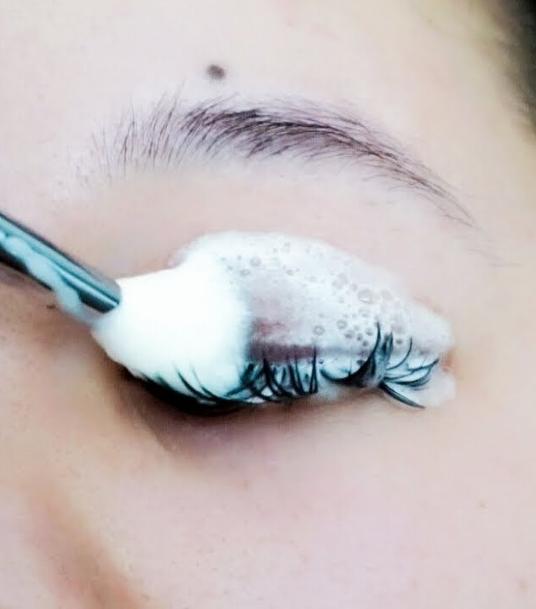 Lash Shampoo Recipe In a Foam Pumper
Mix (can pick up at Sally's or maybe the dollar store) 1 part baby shampoo 3 parts bottled or purified (NOT TAP) water 1/2 teaspoon baking soda* The instructions are simple - wash daily with the lash Shampoo.
Use a fluffy handful (no less than the size of a golf ball) to cleanse the lashes ( eyes closed ) using upward strokes and gentle gestures over the eyelid. No "see-saw" scrubbing back and forth - just upward strokes from root to tip. Rinse thoroughly.
Do NOT towel dry the lashes, but blow them dry with a hair dryer. It is important to use a hair dryer to dry the lashes evenly so they separate without difficulty.
Baking soda reacts with and tempers acidic qualities (i.e. glue fumes when curing), which has mild antiseptic properties, soothes irritation, relieves itching & burning symptoms of allergic reactions and it is often used as a mild substitute for hydro cortisone cream.
REMEMBER: your lashes should always be cleaned. The purpose for lashes are to keep debris our of our eyes, so the extensions will naturally collect more
If unsure of your reaction to over the counter cortisone or antihistamine, please consult a doctor before taking.